Boom Bap Hip Hop Beats for Sale!
Buy Your High-quality, Untagged Instrumentals Below. Instant Download!
Simply put, "boom bap" Hip Hop beats are all about the bouncy, hard-hitting drums! And of course accompanied by a carefully chopped sample and a warm, low-end heavy bassline. This classic 90s Hip Hop sound spans various production sub-genres from east coast, old school, to midwest and more. One thing's for certain with these boom bap beats - the groove is certain to get your head bobbing and the authentic feeling will instantly take you back to the early New York rap sound! These instrumentals are absolutely perfect for artists like Gang Starr (DJ Premier), Pete Rock & CL Smooth, Little Brother (9th Wonder), Slum Village (J Dilla), Large Pro Mobb Deep and many more!
You'll also find similar style 90s rap boom bap beats for sale in genres like: Beats with Hooks, Sample Beats, East Coast, Old School, Underground and Soulful. No Wait. All Instrumentals have Instant Download after Purchase Below. Shop Now with 100% Confidence!
NOTE: Click MENU icon in top left corner of the beat store below and filter by Genre:

"Boom Bap".
---
Which Beat License Should You Purchase?
Use this Simple Chart to help you pick the Best License.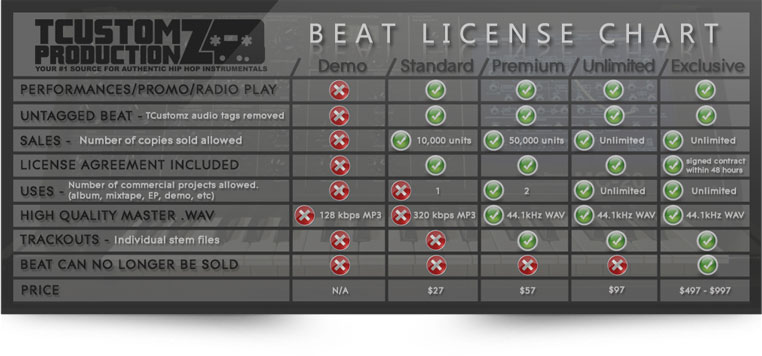 ---
Artists Who've Written & Recorded to Our Beats Include...