Soulful Hip Hop Beats for Sale!
Buy Your High-quality, Untagged Instrumentals Below. Instant Download!
Below you'll find a large selection of top-notch soulful Hip Hop beats beats for sale to download for your project instantly! Soul-sampled Hip Hop is a particular production style that we're very passionate about. You'll hear the soul influences shine through in much of our growing 200+ instrumental catalog. Inspired by a wide variety of 70s soul records and 80s R&B music. A nice mixture of boom bap, midwest, neo-soul and east coast soulful rap instrumentals.. Perfect for artists like Kanye West (College Dropout era), AZ, De La Soul, Jay-Z, Common, Ghostface and many more soulful rappers.
Advanced Filter:
Click Menu Icon
in Top Left Corner of Beat Store below

Filter by
GENRE:
"Soulful".
This style of beats also spans other Hip Hop sub-genres that you may like including: Sample Beats, Beats with Hooks, Midwest Beats, East Coast, Boom Bap, Old School and Underground. Thousands of Happy Customers have shopped with us over the last ten years! Download Hundreds of the Best Soulful Hip Hop Instrumentals for sale Online!

Which Beat License Should You Purchase?
Use this Simple Chart to help you pick the Best License.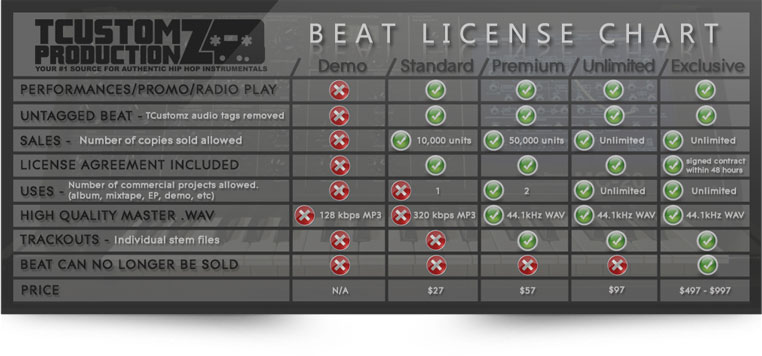 ---
Artists Who've Written & Recorded to Our Beats Include...