Download Storytelling Hip Hop Beats
High-quality, Untagged Instrumentals for Sale Below. Instant Download!
Choose from our selection of Storytelling Hip Hop Beats and Rap Instrumentals to use for your next single or project! Thought-provoking beats that perfectly set the mood to inspire meaningful lyricism and tell your story. Influenced by the classic East Coast Hip-Hop sound. Play and Download our extensive instrumental catalog below instantly! Great for lyrical storytelling rappers like Nas, Eminem, Common, Wu-Tang, Notorious BIG and many more!
Advanced Filter:
Click Menu Icon
in Top Left Corner of Beat Store below

Filter by
MOOD:
"Storytelling".
You may also find similar type instrumentals in the following Moods and Genres: East Coast Beats, Inspiring Beats, Soulful Beats, Beats with Hooks, Deep Beats and more! Download the Best Storytelling Hip Hop instrumentals for sale in the digital music shop instantly. 10+ Years Experience Online, with 1000s of happy customers and clients!
---
Which Beat License Should You Purchase?
Use this Simple Chart to help you pick the Best License.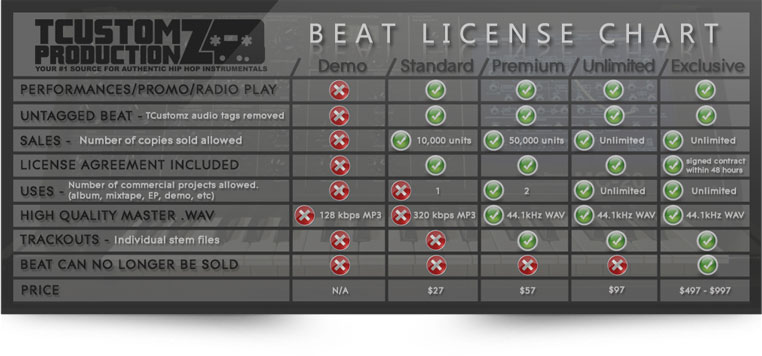 ---
Artists Who've Written & Recorded to Our Beats Include...