East Coast Hip Hop Beats for Sale!
Buy Your High-quality, Untagged Instrumentals Below. Instant Download!
For the real MCs, lyricists and rappers. Reminiscent of the 90's New York Hip Hop sound, these East Coast Hip Hop Beats and Instrumentals are perfect to record your dope lyricism and clever wordplay. You'll find hundreds of authentic East Coast beats for sale to download instantly for your project below! If you've got a story to tell or a heavy dose of witty metaphors to deliver, you've found the right instrumentals for the job! Dope beats for your dope rhymes. Many of the best Hip Hop classics have been made using this style of authentic production. Perfect for artists like Nas, Jay-Z, Notorious BIG, Wu-Tang Clan, Kool G Rap, Rakim, Ghostface Killah, AZ, 50 Cent and countless other NY rappers. This authentic sound stems from the roots where Hip Hop music was born. Sample-based, gritty, warm, and soulful beats. Download your favorite rap instrumentals in the beat store below to get your next classic project started off right!
Advanced Filter:
Click Menu Icon
in Top Left Corner of the Beat Store below

Filter by
MOOD:
"East Coast".
You'll also find similar style 90s Hip Hop beats for sale available in these related genres: Soulful, Boom Bap, Old School & Underground. We've had 10+ Years Experience Selling Beats Online w/ 1000s of Happy Customers. Your Satisfaction is Guaranteed!

Which Beat License Should You Purchase?
Use this Simple Chart to help you pick the Best License.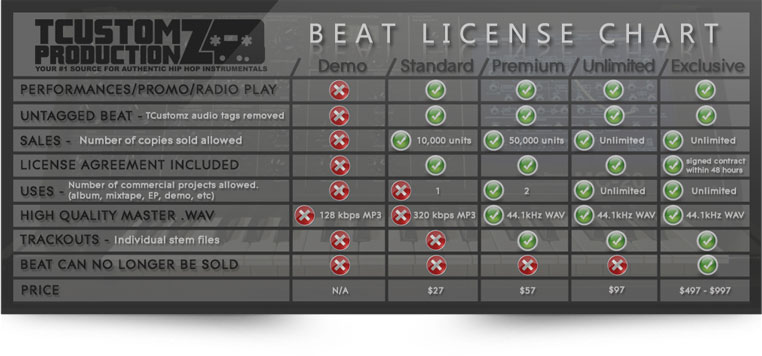 ---
Artists Who've Written & Recorded to Our Beats Include...