Download Midwest Hip Hop Beats
Buy Your High-quality, Untagged Instrumentals Below. Instant Download!
Shop a wide assortment of Midwest Hip Hop beats and instrumentals that speak to the authentic Detroit and Chicago sound in the beat store below. Over the years, the midwest sound has been heavily influenced by many styles of Hip Hop, R&B and Soul music from various regions across the nation. A number of the beats we offer are perfect for artists like Kanye West or Eminem as well as many other great Midwest groups and rappers. Including Slum Village (J Dilla / Elzhi), Lupe Fiasco, Royce Da 5'9", and Common just to name a few. In addition, you'll find instrumentals great for the "Chopper" style artists - like Twista or Tech N9ne - to meticulously craft your triplet or double-time flow to.
Over the past 10+ years online, we've provided Thousands of Artists and Rappers High-quality Production for their projects. Shop with 100% Confidence! You'll also find similar type Hip Hop beats for sale in many of these related sub-genres including: East Coast, Soulful, Underground, Old School, Sample Beats and Beats with Hooks.
NOTE: Click icon in top left corner of the beat store below

and filter by GENRE: "Midwest".
---
Which Beat License Should You Purchase?
Use this Simple Chart to help you pick the Best License.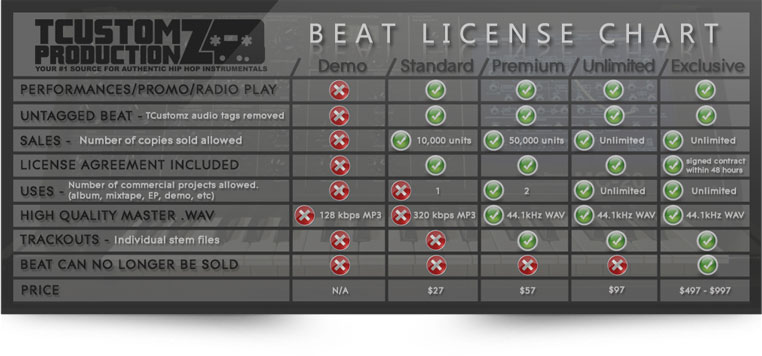 ---
Artists Who've Written & Recorded to Our Beats Include...