TCustomz Beat Tape Vol. 2
---
The TCustomz Productionz Beat Tape Vol. 2 was put together specifically for the underground emcees on a small budget. This compilation contains eight unreleased instrumentals for the price of a single beat! Perfect for any rapper creating a soulful, authentic Hip Hop project. Complete your entire EP or jumpstart your album with these beats alone. By far the best value on the entire site! --- Preview the beats and purchase below.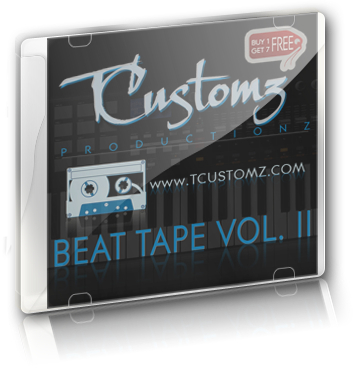 Price: $224
$27
Instant DIGITAL Download!
Play BEATS /
8 Full-length Soulful Hip Hop Instrumentals (Old School, Soulful, Boom Bap styles)
Fallen (2:54) Change the Game (3:07) Above the Clouds (2:55) Listen (3:16) Can't Take It (3:45) Underneath It All (3:56) Back Again (3:23) Dealt With (3:04)
High-quality 320 kbps .MP3 Files w/ Standard Licensing Rights
---
Why Choose TCustomz.com Beat Tapes?
Exclusive Beats.
All instrumentals included in this compilation have been previously unreleased and are only available through the purchase of this beat tape.
Value. Save Big.
Perfect for the aspiring rapper on a tight budget. Get a large collection of high-quality beats for the price of one! More than enough instrumentals to finish your extended-play project today!
Instant Delivery.
No wait! Get your digital download link now. All beat tapes are sent instantly via e-mail.