New School Hip Hop Beats for Sale!
Buy Your High-quality, Untagged Instrumentals Below. INSTANT DOWNLOAD!
This is the newest instrumental sub-genre category added to the website! Download these new school Hip Hop beats and rap instrumentals in the digital store below. Get a fresh and contemporary sound for your current or upcoming project. Most of our instrumental catalog is based around authentic, traditional Hip Hop production. We also offer a great selection of 100% Royalty Free beats with a mainstream Hip Hop sound that are Radio-Ready! You'll discover instrumentals in "Anthem" style, Smooth, Crossover Hip-Hop, R&B, Beats with Hooks (female and male vocals) and much more. These commercial rap beats have an added radio appeal to help you stay relevant in the current pop music culture today. Perfect for artists like: Ryan Leslie, Rick Ross, Drake, J. Cole, Kendrick Lamar, Eminem, Kanye West and more!
We've had 1000s of Happy Customers with 10+ Years Experience Online. Your Satisfaction is 100% Guaranteed!
You'll also find similar style new school beats for sale in the following Hip Hop sub-genres including: Midwest, East Coast, Underground and Soulful. All Beats have Instant Download when You Shop in the Beat Store above. No Wait! 100% Secure Checkout and Your Satisfaction is Guaranteed!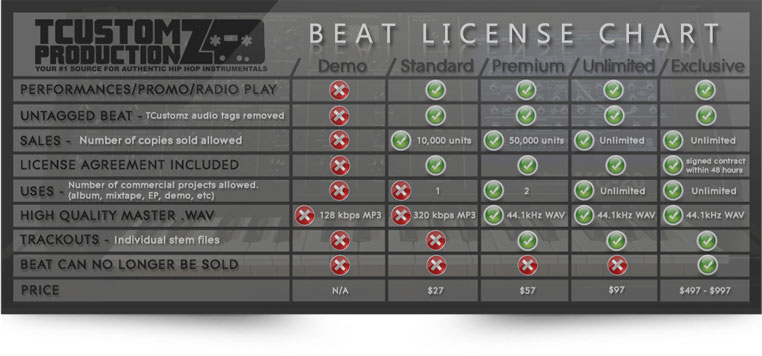 ---
Artists Who've Written & Recorded to Our Beats Include...