TCustomz Vox Sample Kit Vol. 2
---

Announcing the TCustomz Vox Sample Kit Vol. 2. Brought to you by popular demand, this is by far our most anticipated sound kit release yet! You've enjoyed the TCustomz Vox Kit Vol. 1 so much, that it was only right we release a second installment. Only this time on steroids! This exciting release is jam-packed with more of the same style funk, R&B and soulful vocal stabs you enjoyed in volume one, plus many more rare and unique vocal runs you don't want to miss. We've spent countless hours digging, chopping and further processing to get these versatile sounds in ready-to-use shape! You can't afford not to have this in your arsenal. Guaranteed to take your music production to the next level! Grab this one now! --- Watch the demo and purchase this kit below.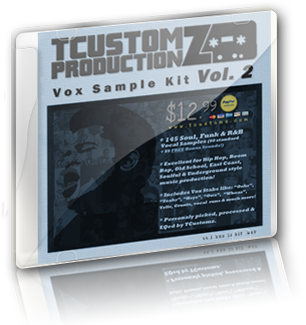 Watch Demo /
90 Custom Funk, R&B and Soul Vocal Samples

+55 FREE Bonus Sounds

= 145 Total Sounds!
Excellent for Hip Hop, Boom Bap, Old School, East Coast, Soulful & Underground style music production!
Includes vox stabs like: "Oohs", "Yeahs", "Heys", "Ows", "Whoas", Yells, Grunts, vocal runs & much more!
Compatible on any Hardware or Software device (including but not limited to: FL Studio, NI Maschine, Ableton Live, All Akai MPCs, Reason, Pro Tools, Logic, Cubase + MORE!)
Format: 44.1 kHz 16 bit .WAV
---
Why Choose TCustomz.com Vocal Kits?
100% Custom Kits.
All sound kits available at TCustomz.com are fully customized, guaranteed!
Authentic, One-of-a-kind Sounds.
Many of these vocal sounds have been sampled from soul, r&b and funk records of the 70s and 80s - as well as EQed and further processed to ensure top-quality.
Instant Delivery.
No wait! Get your digital download link now. All sound kits are sent instantly via e-mail.
Various Genres.
This kit is excellent for a wide array of music styles including: Hip Hop, East Coast, Old School, Underground, Neo-Soul, Boom Bap, sample-based production & much more!