TCustomz Beat Tape Vol. 4
---
It's been nearly a year since the last beat tape release, and back by popular demand I'm excited to bring you TCustomz Productionz Beat Tape Vol. 4. You get instant access to eight exclusive Hip Hop beats in this instrumental compilation that have never been available before and are previously unreleased! A balanced variety of beats including Soulful and East Coast influenced elements, and even some new school Hip Hop vibes, while still staying true to the essence of Underground Hip Hop. You could complete your entire next project with these beats and minimal investment alone! --- Preview the instrumentals and purchase below.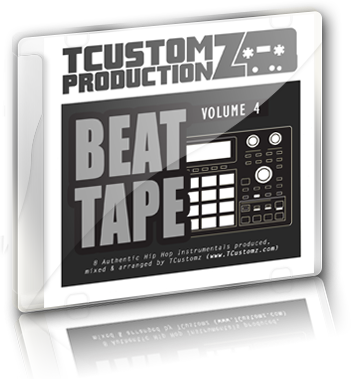 Price: $224.00
$27
Instant DIGITAL Download!
Play BEATS /
8 Full-length Hip Hop Instrumentals (East Coast, Soulful and modern Hip Hop styles)
Intro (1:24) Have to Know (1:48) Go There (1:59) Triumph (2:49) I Won't Stop (2:02) How Does It Feel (2:45) Gothic (2:04) Baroque Meets Hip Hop (2:45)
Choose from 3 license options (Standard, Premium & Unlimited) View License Chart here
---
Why Choose TCustomz.com Beat Tapes?
Exclusive Beats.
All instrumentals included in this compilation have been previously unreleased and are only available through the purchase of this beat tape.
Value. Save Big.
Perfect for the aspiring rapper on a tight budget. Get a large collection of high-quality beats for the price of one! More than enough instrumentals to finish your extended-play project today!
Instant Delivery.
No wait! Get your digital download link now. All beat tapes are sent instantly via e-mail.